Preparing for an AHEC Webinar
* You will receive an email confirmation the Friday prior to the course date. You will also receive a reminder email 24 hours and 1 hour prior to the start time.
** You have to ALLOW your computer to run the Zoom program. You will NOT be downloading an entire application to your computer. Follow the instructions below.
Click the following link to download the "Zoom Client for Meetings" web browser plug-in prior to the course.

Link: https://zoom.us/download

EXAMPLE:

You can also get to the Download Center by clicking this link in your confirmation and reminder email within the week before the course date.

EXAMPLE:

When you click the download button for the "Zoom Client for Meetings" follow the prompts to complete the download to your computer.

On the day of the scheduled event:



In your confirmation OR reminder email, click the link next to the paragraph starting with "Please click this URL to join."

* This link is specifically for you and cannot be shared with another person.

EXAMPLE:


When you click the link it will prompt your web browser to launch the Zoom platform.


If you have already completed the required plugin download, it will open the Zoom Meeting window.


If you have NOT completed the required plugin download, it will prompt you to download it at that time.


Features of Zoom:

This is what you should see when you login:



Audio Settings: This is where you can test your audio. Click the "Test Speaker" button to make sure you will hear the instructor.


Question and Answers: This will pop up a box for you to type in a question for the instructor.
When the instructor shares the presentation it will automatically take you to full screen.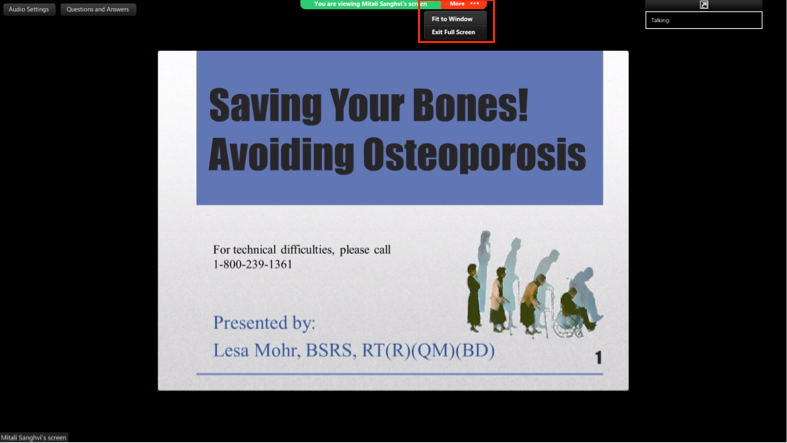 If you want to exit full screen, click the "More" button on top and click the "Exit Full Screen".
When the seminar has concluded and the presenter has closed the meeting you will see this notification.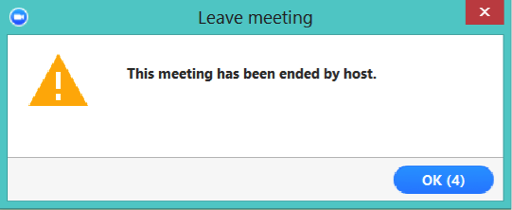 Next to the "OK" in the blue button to the bottom right there will be a count down from 5. When it reaches 0 the window will disappear.
Completing your AHEC Webinar:
You will be EMAILED the link to your survey at the end of the course. This link will close 24 hours after the end time of the seminar. If you do not complete the survey by that time you will need to call AHEC at 1-800-239-1361.


Your certificate of completion will be emailed to you as a PDF to the email address you registered within 2 – 3 business days. (i.e. Thursday webinar certificates will be emailed out the following Monday – Tuesday)


If you have any comments and questions regarding the AHEC Live Webinar Program, EMAIL US HERE.